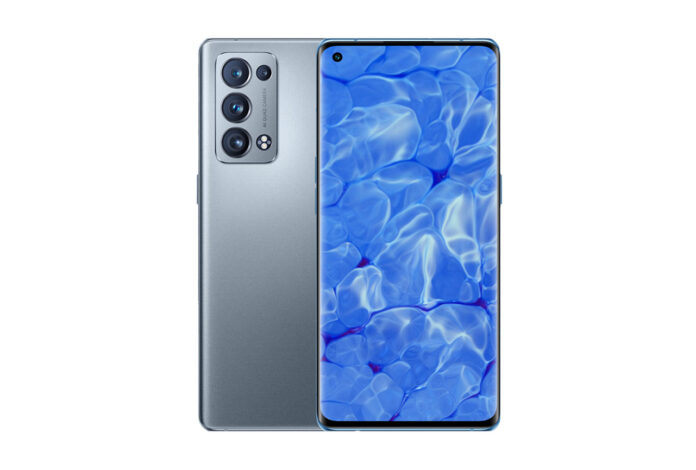 Oppo Reno 6 Pro smartphone was released in second half of 2021, has of today been among the top bought and used Oppo mobile phone. What makes it stand out?
In this blog post I'll be sharing with you Oppo Reno 6 pro features to understand why it is among the best Oppo smartphones in the market today. At the end you will also gt to know if it is worthy smartphone to buy or not.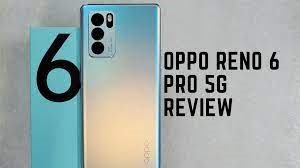 Oppo Reno 6 pro Design
The premium build and finish of the Oppo Reno 6 Pro is apparent right from when you pick it up. It sports a metal frame that encases a glass back featuring Oppo's updated 'Reno Glow' textured finish.
The microscopic texture adds grip to the back of the smartphone enabling better grip and fingerprint resistance. However, compared to last year's finish, we find that this year is more about making the smartphone's appearance look better than its actual functionality.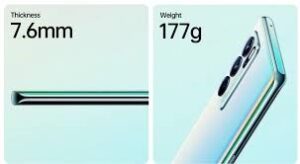 At 7.99mm and approximately 188g, the Oppo Reno 6 Pro is also a very manageable smartphone in one hand. Compared to its competition, it is slightly narrower allowing even people with smaller hands to reach the corner of the device easily. Buttons are comfortable and premium to press, with the power button on the right edge and the volume rocker on the left.
With the Oppo Reno 6 Pro boasting an AMOLED panel, the fingerprint scanner also sits within the display. It is easy to reach, fast and reliable so we have no complaints here. And while this would be the perfect design for a smartphone from Oppo, a notable omission is IP water and dust resistance.
The rubber seals around the dual nano-SIM tray will provide some degree of resistance but Oppo does not officially state this. For a smartphone at its given price, this omission is quite a big one and naturally makes you a bit apprehensive when using the smartphone in dusty conditions or near a water source.
Oppo Reno 6 pro Display
The Oppo Reno 6 Pro packs a 20:9 6.5-inch AMOLED display with a 1,080 x 2,400 resolution, a 180Hz touch sampling rate and a 90Hz refresh rate. Its deep colors and strong contrast levels are inherent properties of an OLED panel which make multimedia consumption an absolute pleasure.
Oppo offers a good selection of options when it comes to tweaking display preferences to your needs. For example, its 'Vivid' mode fulfils the DCI-P3 color gamut which is what we stuck to, however you do get a 'Gentle' mode with sRGB colors.
The latter makes for slightly duller looking colors compared to the display's default color mode which may not be everyone's cup of tea. Moreover, you can also adjust the screen color temperature of the display although we stuck to Oppo's default tuning.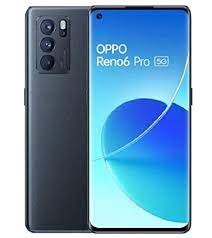 The display also has a proprietary video color enhancer mode called the 'O1 Ultra Vision Engine'. Using this, general SDR content is converted to HDR for a better visual experience.
However, we found its effect to be overpowering which typically resulted in saturated colors. While this was not to our preference, some people may enjoy this extra pop to visuals especially if they are watching content involving a large variation in color.
Oppo Reno 6 pro Camera
The Oppo Reno 6 Pro has an AI-powered quad-camera setup. Its primary camera is a 50MP Sony IMX766 sensor assisted by a 16MP ultra-wide-angle camera, a 13MP telephoto lens and an additional 2MP macro sensor.
Right off the bat, the main camera takes some good images with excellent detail in good light. However, one thing you will need to keep in mind is the camera sensor's tendency to over-saturate colors. Especially with greens, blues and reds, the sensor tries to sway color accuracy in order to make them more appealing via the added vibrancy.
As for actual detail, the ultra-wide-angle camera shows quite a noticeable drop-off. The sharpness and clean detail from the main camera is replaced by subdued colors and softer detail.
We are not saying the ultra-wide-angle camera is unusable however we expected a bit better. Moreover, there is also a hint distortion in images which is more evident when taking pictures of bridges or roads. As you get closer to a subject with the ultra-wide-angle lens, distortion on the edges becomes more pronounced.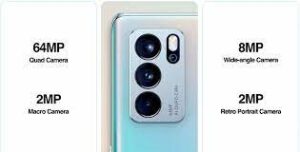 Finally, you find a 2MP macro camera on Oppo Reno 6 Pro. With enough lighting, the macro camera can give you some satisfactory results. But quite frankly, it is not something we are a huge fan of. With the much better 16MP ultra-wide-angle camera, Oppo could have easily implemented a macro function via that lens. This would have led to much better detail in macro images but alas, this is not the route Oppo has gone.
Oppo Reno 6 pro Software and performance
A large reason to upgrade to the Oppo Reno 6 Pro over its predecessor is the processing power on the smartphone. It features the Qualcomm Snapdragon 870 5G chip alongside 12GB of RAM and 256GB UFS 3.1 storage. While its storage configuration cannot be expanded, its RAM can via Oppo's 'RAM expansion' feature.
Using this, you will be able to add either 3GB, 5GB or 7GB of extra RAM on the smartphone. We feel with 12GB already on-board, this is a bit overkill however for extremely demanding users, it might be worth it. We have also seen some benefits of this feature, especially when the smartphone is able to keep a lot of applications opened days ago in memory.
Oppo Reno 6 pro Battery life
The 4,500mAh battery on the Oppo Reno 6 Pro can be considered above average in size given the form factor of the smartphone. But its battery performance is not great.
On a typical day that starts at around 7:30AM, we found the Oppo Reno 6 Pro to be at 34% at 3:00PM. By around 5:00PM, this dipped to 14%. Given this performance, it is difficult to get through a long day on a single charge on the Oppo Reno 6 Pro. Translating this to screen-on times, the smartphone averaged between 5.5-7 hours. Comparing this to a competing smartphone like the Motorola Edge 20 Pro, the average screen-on time is about 30% less.
Final verdict
Oppo phones usually stand out for their design and the same is true here. Reno 6 Pro 5G looks and feels great in hand. The pleasure extends to its gorgeous 90Hz display and feature-rich ColorOS 11.3 software.
Even the hardware under the hood is very robust. It might not outsmart the competition, but Dimensity 1200 SoC would handle gaming and everything else you throw at it with ease.
Whatever the use case may be the 4500mAh battery plus 65W charging combo would ensure the experience lasts for long. The offered connectivity solutions would also reliably stick around.
Now one of those solutions is 5G, which is there for when its time comes. Well, if part of that ₹39,990 asking price goes into future-proofing, that's worthwhile. Speaking of price, for a budget like this, there are certain camera expectations you'd have.
The Reno 6 Pro 5G's results aren't bad but they are thwarted by missing features like 4K60 FPS and OIS in video recording, as well as some instabilities in low light and portrait selfies.
The good thing is that Oppo tries to balance out these hardware insufficiencies with software tricks. Especially, if social vlogging and sharing is your thang, then these filters would be right up your alley. You'd be buying a glamourous phone with good hardware and even better software. However, if that's not the case, you may look elsewhere.