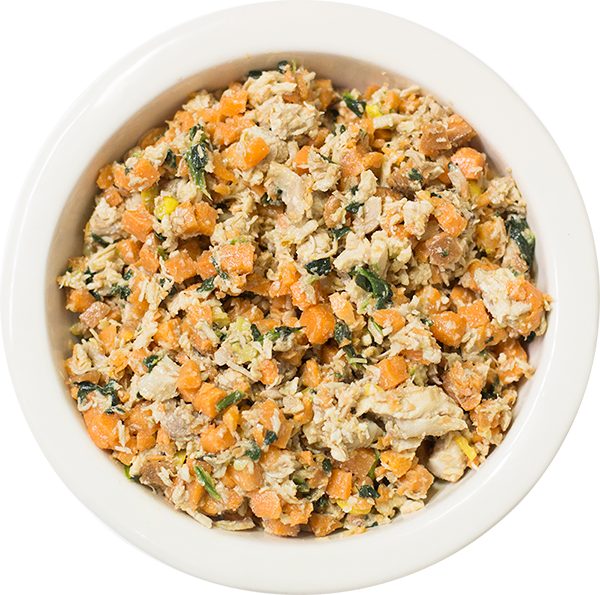 NomNomNow, Inc reviews

If you are a pet owner, you must have been out there looking for a better food option to feed your friends but today I have some good news. I landed into this site that prepares dog and cat foods and thought that should share with you. NomNomNow, Inc was funded in 2015 and has since then been providing the best meals for dogs and cats which are made with your pet's health in mind. Most of their products are made with high quality and fresh ingredients. The meals provided in the market are cooked in the company's local kitchen with care to meet all your pets nutritional needs. The company has grown over time and now they are offering their services and products across 48 contiguous states. The company understands that by feeding your dog or cat a better diet, you will save a lot by simply reducing vet bills and the cost of buying food supplements.
Why NomNomNow Inc is the best
This company is aimed at delivering the best foods for your pets. They have put in so much effort to ensure that they are supplying the best products in the market. All their products are approved and inspired by a board-certified veterinary nutritionist. They also supply products that are made using high quality ingredients to ensure that your cat or dog gets the nutrition they need.
As it is the case with several providers out there, NomNomNow doesn't use filers, artificial preservatives or by-products. What this means is that there are no side effects of these products. Upon ordering any of their products, the company will deliver directly on your door. The company also provides several blogs and guides on what you are supposed to do to your pet and what to give them. NomNomNow is a company that is aimed at keeping your best friend healthy and energetic.
NomNomNow sells high quality, science based, convenient and consistently reliable products that are helpful. We took time to check some of the prior ratings and user comments and come to realize that most of their customers are satisfied with the foods and other products they purchase here. One of the customer say that he has a 13 years old cat that has a lot of appetite and loves food from NomNomNow. Another one says that his dog cannot wait to have a taste at foods from this company.
When we took time to test their products, NomNomNow foods passed all our tests. We also took time to review 3 more companies that provided the same products but this one come at the top of our list. Their Menu is approved by the Association of American Feed control Officials (AAFCO). The company is now at the edge after they started producing cat meals. They foods are very beneficial to every pet regardless of their sensitivity and allergic tolerance.
Products
If you are out there looking for a better alternative when it comes to your pet foods, then NomNomNow is the best place to settle. You don't have to cook or even take a trip to the pet store because the company has done it for you.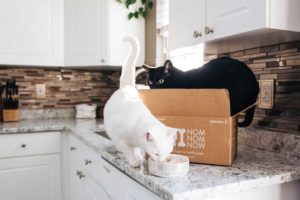 Their main product is dog meals. However, the company also provides cat foods to ensure that you have all what you need to keep your pets healthy. They also take time to provide guidelines and tips that you are supposed to follow and ensure that your pet is healthy and energetic. There are several blog posts and articles that they provide with all what you need to keep your pet healthy.
Up to 60% Off NomNomNow coupon code will help you to save on your order in 2019. You will also get other offers like 30% OFF sitewide or 35% off on specific items.
Features
For dogs, the company has different packages depending on the age and weight of your pet.
Dogs between 5-10 lbs, you are supposed to pay $108-$120 for a whole month.
Foods for Medium dogs of 30lbs cost $155-$200 per month.
Foods for Large dogs of 80 lbs costs$220-$328 per month.
For cats of 8 lbs you have to pay $245-255 per month.
After purchase, you are getting freshly-prepared foods based on your pet's profile.
Pre-cooked foods to give you an easy time.
Professionally advised formulas an d ingredients.
They can deliver anywhere in the US.
Shipping
NomNomNow will deliver everything your order anywhere in the US. However, the company has not got out of the US and for this reason; they will not be able to deliver outside the country. The company will process your order within the shortest time possible and eventually the delivery will be started.
Quality ingredients
The main reason why we thought that NomNomNow is the best place to get your pet food is because Dr. Shmalberg is the man behind the formulation. He ensures that all the ingredients used provide every nutrient that your dogs and cats needs. When ordering, you can be sure that you are not ordering month-old foods because all the food is made fresh every week. They are confident that their products will help your dog and cat and there's nothing to complain about.
They provide you with a 30 days guarantee. This shows how fast the results can be. It also shows that the company is confident with all what they supply. They are aimed at helping your pet not just grow but grow healthy and energetic.
Possible drawbacks
One thing that every user is complaining about is the price. This is not for you if you are looking for cheaper alternatives. Although the company offers high quality products, they are sold at a higher price. The company will drain $100-$300 out of your pockets every month depending on your dog's profile. Though, you may feel the advantages later on.
The good thing is that you can be able to pause your subscription after logging into your account.
The other problem is the delivery. The company is likely to deliver your dog foods once every four weeks. It is not possible for you to adjust your delivery according to your schedules.
Conclusion
We think that NomNomNow is the best-rounded and a very reliable option when you are looking to invest on a monthly food delivery for your pet. With the company, you will get a 20 percent of your first order. They also give you a 50 percent off two weeks' worth of food. However, that is only possible if you participate in their Adoption Programs. They are also helpful when you are looking for a healthy alternative for your dogs or cats. All their products are very helpful and beneficial to your pet. The other thing is that you can add more than one pet in your profile. After creating your account, you can look for ''add another pet'' icon and do exactly that.