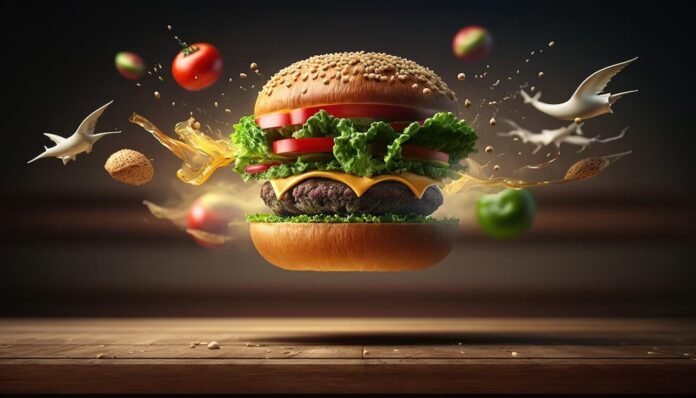 Ahmedabad, the largest city in the state of Gujarat, India, is known for its vibrant culture and delicious street food scene. Here are 11 must-try street foods in Ahmedabad:
Dabeli: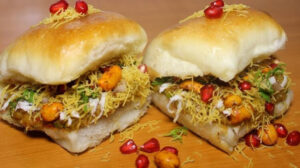 A popular Gujarati snack, Dabeli consists of a spicy potato mixture stuffed between pav (bun) and is garnished with chutneys, pomegranate seeds, and peanuts.
Famous Place: Karnavati Dabeli Center
Vada Pav: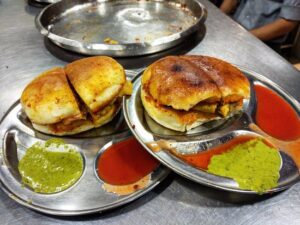 A Very popular Gujarati Snack, A spicy potato fritter made from mashed potatoes mixed with spices such as green chilies, ginger, garlic, and mustard seeds. The potato mixture is formed into patties, coated in chickpea flour batter, and deep-fried until crispy and golden brown.
Famous Place: Karnavati Vada Pav Center
Khaman: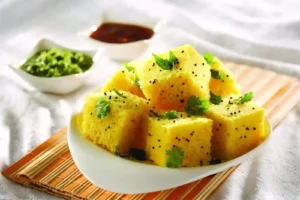 A savory steamed cake made from fermented chickpea flour, Khaman is fluffy and served with green chutney and sev (crispy chickpea noodles).
Famous Place: Das Khaman Since 1922
Fafda-Jalebi: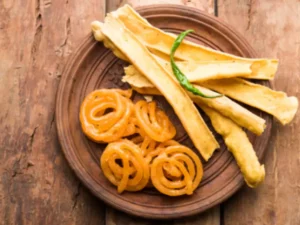 Fafda is a crispy gram flour snack often served with jalebi, a sweet and syrupy dessert. This combination offers a delightful balance of flavors.
Famous Place: Haribhai Fafda Wala
Pani Puri/Golgappa: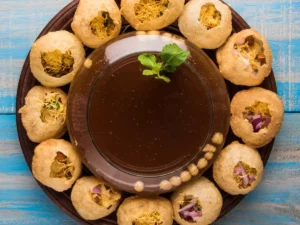 A classic Indian street food, Pani Puri features hollow puris filled with a spicy and tangy tamarind water, along with a mixture of potatoes, chickpeas, and chutneys.
Famous Place: Janvi panipuri center
Khakhra: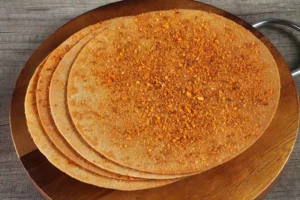 Khakhra is a thin, crispy flatbread made from wheat flour and various spices. It comes in various flavors and makes for a great on-the-go snack.
Famous Place: Induben Khakhrawala
Sev Khamani: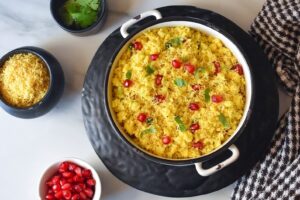 Similar to Khaman, Sev Khamani is a soft and tangy dish made from mashed and sautéed chickpea cakes, topped with sev and other garnishes.
Famous Place: Das Khaman Since 1922
Pav Bhaji: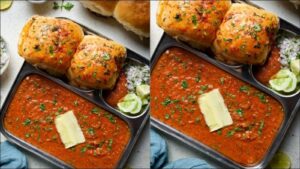 A popular Mumbai-inspired dish, Pav Bhaji consists of a spicy vegetable curry served with soft bread rolls (pav).
Famous Place: Mahalaxmi Pavbhaji 
Patra: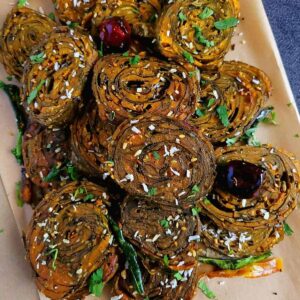 Patra is made from colocasia leaves coated with a spiced gram flour paste, rolled up, steamed, and then sliced. It offers a unique texture and flavor.
Famous Place: Das Khaman Since 1922
Methi na Gota: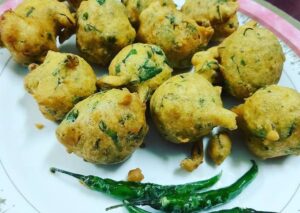 These are deep-fried fenugreek fritters that are crispy on the outside and soft on the inside. They are often enjoyed with chutneys.
Famous Place: Raipur Bhajiya House 
Remember that street food is an integral part of the local culture, and these recommendations might not cover all the fantastic options available. When trying street food, make sure to go to well-known stalls with good hygiene practices to ensure a safe and enjoyable experience.