Food delivery services have an old history. As a matter of fact, these services started in the sixties and now they are growing in popularity. With so many options in the market, you need to be very cautious with some of the companies you find. For this reason, we are here to give you all the information you need to make an informed decision. Today, we are going to talk about one of the most popular and reliable delivery services in the market- Real Eats.
What is Real Eat and what services do they offer?
Real Eats is a very reliable and customer-friendly delivery service. The company offers world-class meals prepared by qualified chefs to make sure the food is fresh and ready to eat. They have a wide selection of meals and friendly pricing plans which makes it one of the best delivery services in the market today. Actually, the company sounds like a great way to get fresh foods that is healthy and ready to eat.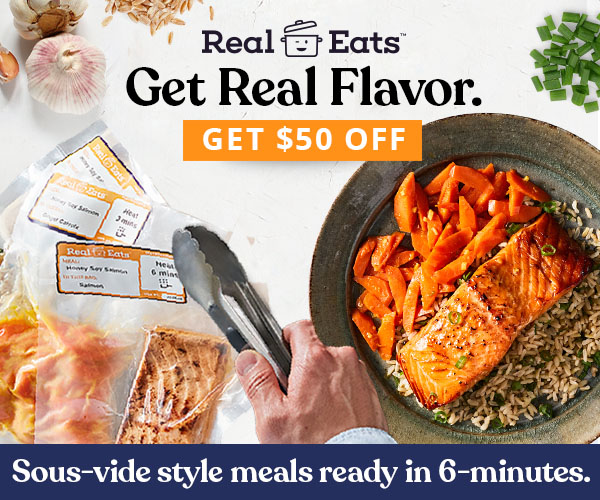 $50 OFF your first two weeks ($25 off each week) with code FLEX50
Who's this delivery service best suit for?
This delivery service is the best to suit for people that don't want to spend a lot of their time in the market and later in the kitchen preparing meals. It's also ideal for those others that want to lose weight with ease. If you are one of those people that still want to eat healthy with little efforts, then this delivery service is for you. You can really benefit if you are living within the shipping zones.
What are some of the advantages of Real Eats?
Real Eats offers a couple of benefits to the market. If you started using this service today, you will get the below benefits:
Fair pricing plans
Fully prepared meals ready to eat
All meals are under 600 calories
Free deliveries for those within the shipping zones and orders above $115.
Definitely, there are several disadvantages to using this delivery service. Here are some of them:
Are you highly allergic? If yes then this service is not for you.
The service also doesn't have any unique or special dietary menus.
The company does deliver in all the states.
Regardless of the above cons, Real Eats still stands up as a unique and reliable Food delivery service.
Real Eats Meal plans
The company offers two types of subscriptions which include Dinner only and Breakfast + dinner. If you choose the Dinner only subscription, you will simply choose the number of meals you want to receive each of the weeks.
If you opt for the Breakfast and Dinner subscription, it will be upon you to choose the number of meals you want to receive each of the weeks.
Is their food tasty?
Am sure this is another determining factor that you want to be well versed with before you continue to subscribe. Our mission, in this case, was to try and taste the food first before we give this information. The food was tasted and we were very pleased with the company. The food was tasty and very delicious which is the reason why we believe this delivery service is a great option for those people looking for tasty and healthy foods.


Their meals were delicious, tasty and also felt like they were prepared and cooked at home. Some of the meals that we liked and would recommend include: Honey Sesame Chicken with Asparagus, Brown Basmati Rice, Red Curry Shrimp with Mixed Veggies, Shiitakes and Smashed potatoes.
What is their delivery policy?
The company will deliver all their foods packed in a medium-sized branded box that looks very beautiful and organized. The best thing about this delivery method is that the box is thermally regulated to keep the food cold during the whole shipping process.
You will get the food in a vacuumed plastic bag packaging. You don't have to worry about the pouches because they are 100% safe. As a matter of fact, the pouches have no risk of any leaching, they are BPA free, Phthalate free and Plasticizer free to make sure you get a healthy meal. The foods will be delivered the next day and they also offer free deliveries for orders above $115.
How to order
The ordering process is not very complicated. In fact, if you are starting today, you can get 50% Off your First Order from RealEats. The website is very clear and also is user-friendly to make sure you can order and get your food delivered with ease.
To order, you just need to choose the desired plan out of the eight plans they offer. The best thing about them is that they offer 4 different plans for dinner only and the Breakfast + dinner plan. You now have to choose your foods for the next week and checkout.
Before checking out, it's also very imperative to make sure you have created an account which is regarded as your meal planner. You can plan your upcoming deliveries and eventually manage your subscriptions. You will be required to enter your shipping address, payment method and the delivery time.
Real Eats pricing
The company has reasonable and very friendly pricing plans for every meal delivery. The good news is that you can use coupon codes when you are ordering. The company will at the same time make it easy for you to choose the option that works for you and save some money that you would have otherwise wasted going to a fast-food joint. Below is a breakdown of their prices.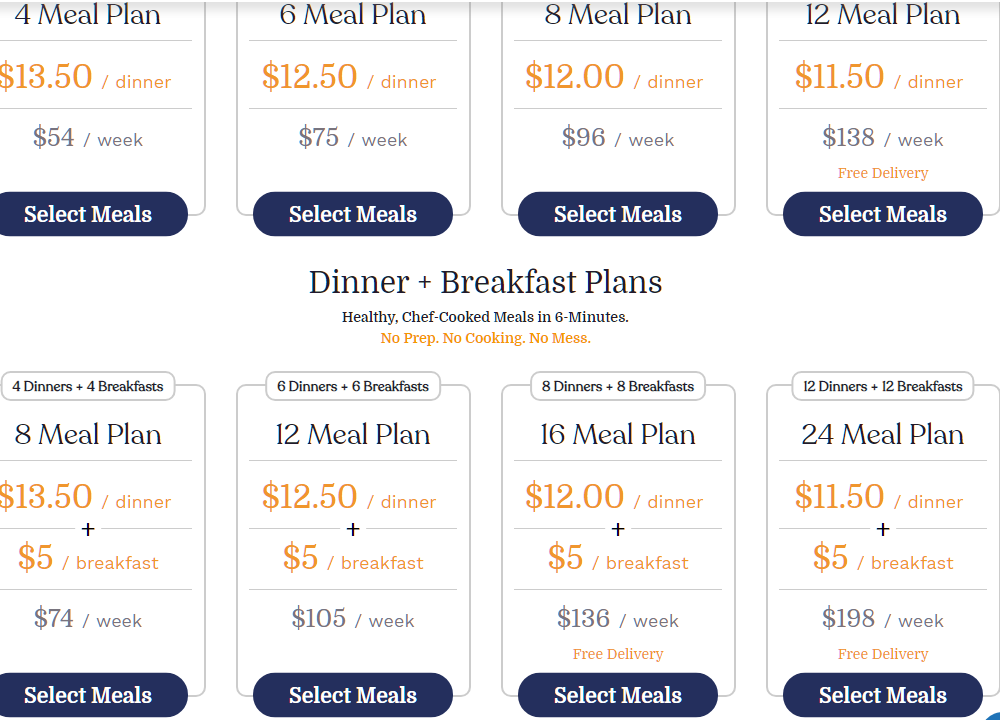 At the day of writing this review, Real Eats was offering 30% off Your first week using the code REAL30 at checkout.
Help and Support
In case there's any problem with your subscription or with your delivery, you can always contact their support team via 1-855-695-6387. You can as well read the FAQ section on the website where you can get answers to some of the common questions.
Final verdict
With so many food delivery options available in the market, it's easy to get confused. With Real Eats, it's very easy for you to work with them, ordering is smooth and you get your food just as stipulated. You are also given tons of plans to choose from. For these reasons and many more, I would recommend Real Eaters to people from single families with kids.