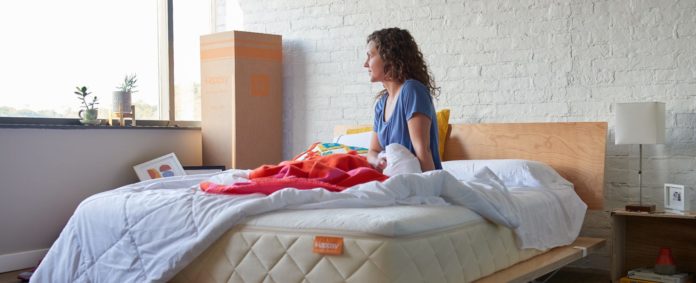 Happsy is a new company that has entered the market with high expectations. The company has made a decision to join the highly volatile and competitive natural mattress market and most of the people are watching it. The market has some big competitors such as My Green Mattress, Avocado and Zenhaven. All these companies offer eco-friendly hybrid models that everybody is looking for.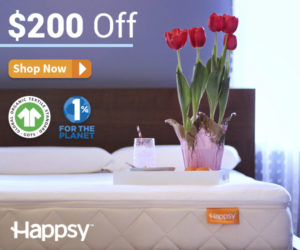 Happsy are well known for their competitively priced hybrid mattress which are made by utilizing organic latex and pocketed coil springs. All this effort is to make sure you have a comfortable and a supportive mattress that offers a very conducive sleeping environment. The mattresses are also made specifically to effectively control temperatures while offering a good and a comfortable support.
We understand that there are several issues and confusions that may arise when you are in the market looking for the best organic mattresses. For this reason, we are there to offer a complete Happsy Review. If you are really in a hurry, you can proceed to the review summary at the bottom of this post. However, it's advisable to read the complete guide to get enough information to get a clear picture of this mattress.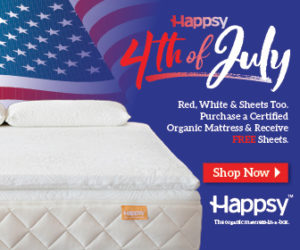 One thing am sure about is that Happsy mattress is one of the best mattresses that you can find in the market. If you are in the market looking for a high quality organic mattress, then you don't have to waste a lot of your time researching online. However, this mattress works best for some groups of people. We took some time to test all aspects of the company and hence we are sure you will love.
Happsy mattress is designed and created after consulting with Chiropractors, consumers and engineers to make sure they are offering the best products in the market. The mattress is highly recommended to almost all types of sleepers.
Who will love this mattress?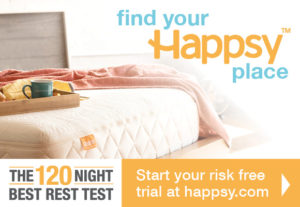 Although this mattress can be a good companion to almost every person in the market, there are some of the groups that will love it the most. You will love this mattress if:
You love environment-As I had already stated, Happsy makes an eco-friendly mattress and offers it to the market with sole intentions of conserving the environment. The company invests a lot of money and time to make sure they offer mattresses that are made from safe and sustainable materials. All the materials they use including wool, cotton and latex are certified by strict third-party evaluators and are high quality.
You want value-As I had already started, Happsy mattress is a competitively priced alternative that offers value at all costs. One thing I hope you will agree with is that you are looking for beds with a lot of natural materials and environmental certifications. They are a great and a worth investment that you shouldn't miss.
You want bounce-The Company has used a blend of coils and latex that provide a good amount of deep and surface level bounce. If this is what you want, then you will get exactly that without any hustle.
Who will not like this mattress?
I had already stated that most of the customers in the market will love this mattress, however, there's a group of people that will not particularly love it. You will not love this mattress if:
You want an all-foam bed-Happsy designed this mattress to conform to your specific shape so that it can relieve you pressure and at the same time regulate body temperatures and air flow. However, you will not find an all foam construction if that is what you want.
Reviews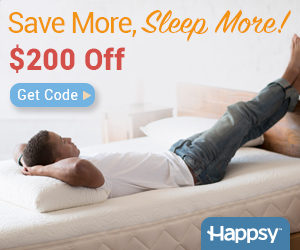 To make sure we are giving the best value in the information given here, we also spared some time to check on Happsy mattress topper review and Happsy crib mattress. Most of their prior customers are very comfortable with the services offered by the company and the products offered. Very few people have an issue with the return policy and the time it takes to ship.
Happsy Organic VS Naturepedic Chorus Organic Mattress
Happsy Organic is a good partner for a plusher and a more luxurious feel. The mattress is also perfect for almost everyone in the market. Most of the customers love that pillow top feel. Lastly, it's perfect for side sleepers.
Naturepedic Chorus Organic provides excellent support. It is also very comfortable for side sleepers and several others that want a comfortable place to sleep.
Happsy Mattress Discounts
When you are buying online, you don't have to spend a lot to get it. You can check for their coupon codes to use at checkout and everything else will be okay. You can use CouponCodeGroup Exclusive coupon codes and save up to 15% off your new Happsy Mattress. You can as well sign up to their newsletter to get discount information and other news.
Final verdict
With all, the information provided above, you can agree with me that this mattress is amazing. The company sells more organic bed-in-the-box mattress that you can look for at any point in time. They are specifically determined to save the world and at the same time offer high quality materials at a competitive price.
With our own observation, this mattress gets in the market as a good nap time companion because of the following reasons.
Material and Quality-the materials used to make it are high quality and are also very durable. This is the reason why they get 9.4/10 positive rating.
Support and comfort-as we have already demonstrated for you, it offers support and comfort just like your needs. The support and comfort receives our 9.0/10 positive rating.
Cooling-this material uses some materials that makes it the best in regard to air circulation and temperature regulation. This gets our 9.4/10 positive rating.
Edge support-This comes into play especially if you are sharing the bed with a partner. In this case, this takes our 9.2/10 positive rating.
Value for money-I started by saying that you will love this mattress if you want value. Considering the materials used to construct it and the time spent making it the best mattress for you, the price is relatively adorable. Its value takes our 9.6/10 positive rating.
For this company, giving you a good sleeping environment and saving the earth are their sole purpose. What am trying to say is that you shouldn't waste a lot of your time and money looking for a good all-natural mattress.