Aiper has been developing outdoor cleaning solutions that are straightforward, inventive, and smart by utilizing cutting-edge technologies and achieving firsts in the industry.
The Research and Development (R&D) team at Aiper was born with honors and continues to develop fascinating technologies and innovations that will continue to shape the market well into the foreseeable future.
They have a keen awareness of market demands and aim to alleviate people's points of discomfort.
Aiper advanced technologies
People have been able to save countless hours thanks to Aiper technology, which they can then use to spend more time doing the things they enjoy. Let Aiper take care of the laborious tasks associated with maintaining your backyard while you focus on spending more quality time with your family and appreciating the benefits of your labor.
Aiper makes available, to a greater number of families and their pools, cleaning products that are both convenient and inventive. Aiper has established itself as the industry's pioneer and undisputed leader in cordless robotic pool cleaners. In addition, the company is making unrelenting efforts to ensure that the entire backyard is clean.

Cordless Feature
What many individuals now consider to be completely normal was once a significant source of frustration for them. In addition to being constrained by a cable that generates a tangled mess, it was obvious that it was making the experience unpleasant for an excessive number of individuals.
Aiper designed this feature to protect more children, freeing them from the constraint of a complicated and untidy cable, decreasing the burden of the heavy weight of the corded robotic pool cleaner, and making life simpler and more condensed. Aiper has quickly established itself as the industry's most innovative and leading brand of cordless robotic pool cleaners.

Triple-axis Drive Motors with Auto-swerve Technology
The actual cleaning coverage provided by the majority of pool cleaners is, at best, unimpressive, averaging between sixty and eighty percent. The gearing system on older versions gave them restricted movement, the randomized routes they would travel, or their inability to clear more difficult algae and detritus from pools were a few of the reasons why this was the case.
The Aiper Research and Development team produced the first completely geared cordless pool cleaner after doing research to determine the underlying cause of the problem. Its intelligent cleaning modes meant that randomized paths were no longer necessary, and the three-axis motors not only enabled it to automatically swerve for a larger cleaning coverage, but they also allowed it to climb and clean the walls of pools. The industry has reached a new level as a result of cleaning rates that have increased to well over 90 percent and above

Gyroscope Technology for Intelligent Route Planning
The majority of robotic pool cleaners on the market today use an antiquated way of cleaning known as "back-and-forth," which results in random cleaning routes.
It travels without deviation from one side of the pool to the other, collides with the wall, and then circles back around. It happens rather regularly that it will get caught somewhere or that it will not have sufficient cleaning coverage.
Aiper equipped its robots with gyroscopic technology, which enables processing, intelligent scanning, and route planning for the most environmentally friendly paths. The days of having a limited cleaning coverage and following a randomized path are long gone.
Low Battery Self-Parking Technology
In the majority of cases using corded robotic pool cleaners, we discovered that after each cleaning cycle was over, individuals were required to firmly pull on the cable in order to draw it out of the pool. This was one of the things that we discovered.
When water pressure and resistance are combined, there is a genuine risk that cables will break or wear out more quickly than they would otherwise. The cordless robots developed by Aiper were an incredible answer to this problem.
The most recent concern is as follows: what happens if the bot's battery dies and it becomes stuck in the middle of the pool? It would be extremely foolish to attempt to get it from the water by submerging oneself in the pool.
Because of the most recent advancement in technology, known as Low Battery Self-Parking, it will automatically stop along the side of the pool wall once it has finished a cleaning cycle or when the battery is running low. Using the hook that is provided, which makes retrieving it a breeze and eliminates any unnecessary stress, is now a piece of cake.
Aiper Products
Cordless Robotic Pool Cleaner
The cordless automatic pool cleaner is the most cutting-edge pool robot cleaner for above-ground pools and inground pools up to 100 square meters in size.
To free you from the constraints of the power cable, our cordless pool cleaner robot comes with a lithium-ion battery that has a capacity of 5000 mah and can last for up to 60–90 minutes of continuous operation.
It is able to function independently of a cable that is connected to a power outlet, providing increased portability. The IPX8 waterproof design for the battery ensures that it can be used without worry.

This automatic pool cleaner has a fast movement speed (approx. 16m/min) and powerful cleaning capabilities, high frequency, fast speed, thorough cleaning, saving time and effort. It is a cordless robotic pool cleaner with a deflector and a powerful engine.
The robotic pool cleaner has two huge suction doors, one bottom brush, and an advanced filter. These features allow it to trap and lock in debris such as leaves, dirt, and sand, leaving your pool water sparkling clean. Your pool cleaning responsibilities are completely taken care of by our pool robot cleaner.
With its cutting-edge battery sensing technology, the Cordless automatic pool cleaner will pull over to the side of the pool and cease working either when the battery is completely depleted or when it has finished its cycle of cleaning by itself.
To release the pool cleaners onto dry land, simply pull up on the handle that is attached to the floating platform. To recharge the robot pool cleaner for the next cleaning, you need only connect it into an outlet that is 110 volts. Approximately four to six hours are required for a complete charge.
It comes with a floating handle that may travel in the same direction as the robotic pool cleaner it's attached to. The pool cleaner weighs only 12.1 pounds, making it very easy for those of advanced age or ladies to remove it from the pool.
The maximum slope that the cordless pool cleaner is able to climb is 15 degrees. The automated pool cleaning is completely risk-free for use in any kind of swimming pool, including concrete, fiberglass, and vinyl liner pools.
The robotic pool cleaning needs very little maintenance, and it does not rely on any supplementary tools to get the job done. There is no need for an installation or hoses, and there is no need for a booster pump or suction lines.
There are two large suction doors; water comes out of the open nozzle to propel the pool cleaner ahead, and you can adjust the nozzle by rotating it to regulate the moving route to effectively clean the floor of the pool. There are also two suction doors on the side of the pool cleaner.
Corded Robotic Pool Cleaner
The rapid water release eliminates the potential for buildup within the apparatus, ensuring that the Robotic Pool Cleaner will continue to be lightweight and simple to remove from the pool.
The driving motors of the pool vacuum each have a capacity of 150W, and together they produce a high flow rate to ensure that your pool receives the deep cleaning that it requires. During the cleaning process, it gathers waste such as insects, dirt, sand, and other particles using dual PVC brushes.

The Rockrocker Robotic Pool Cleaner possesses exceptional filtration powers. Your pool will be extraordinarily clean as a result of the twin huge up-load cartridge filter baskets that collect and lock in all different kinds of dirt and debris.
Pool Vacuum Cleaner
Powerful suction is provided by the Aiper pool vacuum cleaner's robust motor, which has a water displacement rate of 8 gallons per minute. It works wonderfully for cleaning spas and hot tubs, in addition to smaller pools. It is meant to collect a variety of rubbish, such as sand and small stones, among other things.
The battery has a capacity of 6000 mAH and provides power for an extended period of time, about one hour. In addition to this, you will have the freedom necessary to thoroughly clean the entire pool.
The telescoping pole that comes standard with the pool vacuum extends from a length of 33.5″ to a length of 69″, making it an ideal tool for cleaning spas and hot tubs of varying sizes. Connecting to a conventional pole of an appropriate length allows for use with above-ground pools (not included).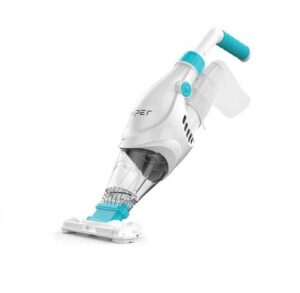 After turning on the rotary switch, if the vacuum is not submerged in water for approximately sixty seconds, the built-in sensing switch will be triggered, and the vacuum will turn off by itself. This was done so that we could maintain the health of the battery.
Rotary switch function that only requires you to hook the unit to the pool pole that's included in the package, turn on the unit, and you're ready to vacuum just like you would on the floor. If you want to enjoy cleaning your pool more, get rid of the obnoxious cord or hose.