Every garage owner is happy that Flaximounts have launched the world's first Motorized garage storage rack-HandyJack. If you were previously concerned about the organization and the functionality of your garage, then you have a better way of keeping everything in order. This motorized garage storage offers bold, secure and a very efficient alternative to your previous garage storage. It will help to organize your garage and at the same time keep it neat and looking good. In this review paper, I am going to take a closer look at HandyJack and reveal whether this is the best alternative available in the market today or not.
What is HandyJack?
This rack is a motorized solution to your garage which is vertically ascending offering space that will allow you safely and easily store your equipment. You can store heavy objects and any other equipment that you care about without having to climb any ladder. One reason every garage owner is rushing to purchase this rack is because it will greatly eliminate the appearance of disorganized, risky and unpleasant storage spaces. If you own a garage, I bet we are in the same age. Unsafe storage are common in many traditional garage spaces and this can cause trouble.
Benefits of the new motorized rack by Flaximounts

HandyJack offers a couple f benefits that you can't afford to miss. At this point in time, am going to talk about some common benefits that you are going to get immediately you purchase this product.
Eliminates the need for ladder
Know you will agree with me when I say almost every garage has a ladder to climb when storing equipment. One thing that you have never knew is that ladder is the leading cause of injuries in many garages. If you consider available statistics about the same issue, you will discover that there are 500,000 reported ladder injuries every year. For this reason, you should be happy that a new product is here to eliminate the use of ladder in your garage.
No need for heavy lifting
Am not trying to praise the product but am fully convinced that HandyJack is the best product that every garage owner should be looking for. You will no more have to coordinate workers to help you lift a car engine, gearboxes and several other heavy equipments for storage. There is some evidence that heavy equipment lifting is also a leading factor when we talk about injuries in garage. HardyJack was developed with safety in head and therefore, completely eliminates all the risky hazards in your working area. You are only supposed to press a switch and everything else will be in motion.
No efforts needed
HandyJacky is an effortless partner in your garage. If you desire to have a convenient and an easy method of storing your heavy equipment, then don't hesitate to buy this product. You will not have to pay huge monies for people to help you in lifting heavy equipment.
Maximizes storage space

The other benefit is that rack will maximize the storage space in your garage. If you are one of those people who are out there looking for a safe and a better way of storing equipment, then HandyJack should be your next big investment. The product has fewer parts and screws t assembles and therefore you can set this device within minutes. The driving storage lift can be able to sustain heavy weight on its platform.
Top quality and Durable Construction
This device is made from strong metals and for this reason, you can be sure that you have a durable and a top quality machine with you. The metals and the parts of this machine have undergone meticulous assessment for basic safety and long lasting determination. This machine will continue serving you for a very long time.
Is it worth it?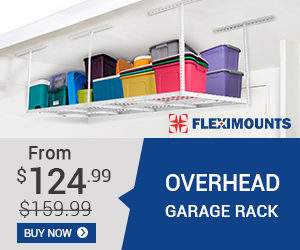 I don't have to dwell so much on this question because we have already seen many benefits of having this product in your garage. The answer is simple, yes, Flaximounts Handyjack is worth it. It is a very useful partner that no one should ignore especially when it comes to safety. After checking most of the reviews about this product, I discovered that most of the prior users are very satisfied with the use of this machine.
Although there are some users who have some personal problems with this machine, it is still worth it. Those complaining about it are complaining about the price. This machine is very expensive. For those garage owners who are very sensitive to price, then they will not look completely satisfied with the price. It retails at $269.99 without the shipping fee. If you need it from any part of the world, you will have to pay more for the shipping fees.
Another problem is that this product has not been in the market for a longer time. What this means is that there are fewer reviews and user comments which could otherwise guide you before you purchase. However, this is not a big deal because most of those who have reviewed it already agree that there is little to worry about.
Although there are several other models in the market today, this one is very unique. You don't have to stay close by when the Machine is working. You just have to press the switch and later move away and watch. It will raise all your storage products including Hobby-bears and decorations.
The bottom line
I know you have had a long time looking for an effective garage machine that will help you store almost all heavy equipment in your work area without any hustle. Today, I am happy to tell you that HandyJack is a good alternative in this case. Don't hesitate, just take chances and take this as the next big investment in your garage. You don't have to deal with ladders any more. You will as well be sure that your workers are safe and have a good and an easy time serving your clients.
Up to 60% Off Fleximounts Coupon Code will help you to save on your order in December 2018. You will also get other offers like 30% OFF sitewide or 35% off on specific items.