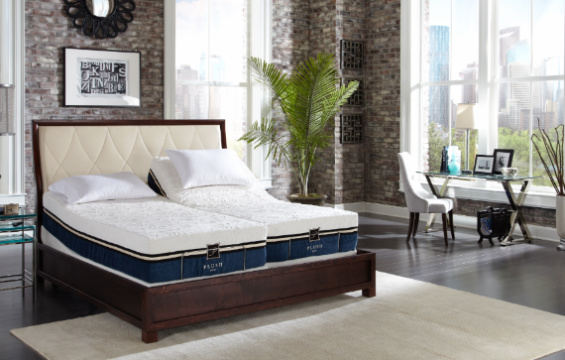 One thing that most people don't know is that sleeping 8 hours a day means you sleep 3 out of 10 years. What this means is that you should have a comfortable place to sleep and a very favorable environment for your nap time. Now that you want a better place to sleep, you should be upgrading your beddings after a certain time. Plushbeds is the best provider for latex mattresses in the market that you should be going for. The company offers mattresses and other bedding materials that are made from organic and natural materials. In this Plushbeds review, we are going to check what their prior customers are saying and eventually lay a very informative own thoughts section to help you make your decision.
Who is Plushbeds?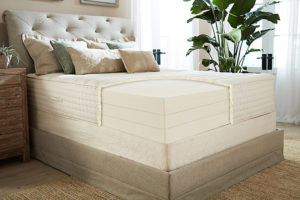 This is a mattress company that has been in the market for a long time now. They have been over the time offering a line of latex, mattresses which are popular all over the world for their luxurious and a comfy feeling. They make their mattresses using luxurious materials that are both durable and silent. The company ensures that everybody out there invests in a high quality bed that they are going to enjoy for the next 3 years of their 10 years.
What products do they sell?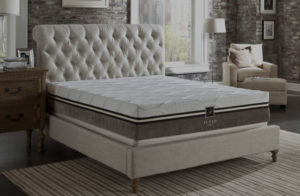 Plushbeds offers several bedding materials but they are known for Plushbeds memory foams mattresses and other types of mattresses. The company offers mattresses in three different models including:
Mattresses in the Botanical Bliss collection-These mattresses features comfort systems from its top layers that are made from GOTS certified organic wool and the other three layers of natural Dunlop latex. Its cover is also made of organic cotton. The mattress is available in 9-inch, 10-inch and 12-inch which work perfectly to meet your needs.
Mattresses in the Natural Bliss Collection-These mattresses are made with natural Dunlop latex support core. The cover is made of organic cotton. The mattresses are also available in 6-inch, 8-inch and 10-inch. However, the 6-inch design misses the comfort layer.
The luxury Bliss-This is a 12'' latex hybrid mattress which is perfect for those people looking for luxury and comfort in their beds. The model has a comfort system with 3'' of certified organic Dunlop latex. What this means is that this is the best and a model that attracts a huge sum of money.
If you are visiting their official website to place orders, you will have a couple of sections to choose from. They are also selling Plushbeds mattresses toppers, Plushbeds adjustable beds and several other sleeping accessories.
Plushbeds mattress Prices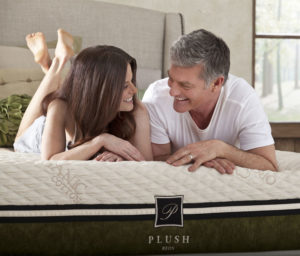 As I had already started, this company makes all their products using natural and eco-friendly materials which includes high quality latex. What this means is that they are likely to price most of their products at a relatively higher price. We checked on their website and noted that most of their products are retailing at somewhere between $899-$999. On the other hand, their toppers are retailing from $199-$189. Their pillows retails at somewhere between $89-$129.
Plushbeds reviews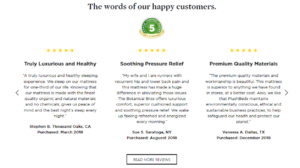 To give you unbiased results, we also spared sometime to check on the reviews from their prior customers. The good thing is that there are several positive and negative reviews that can really help you make an informed decision. We checked on Plushbeds mattress topper reviews and noted that most of their prior customers are very comfortable with them. However, there are some of the people that were complaining about the price. You can check on the company for the most recent Plushbeds topper reviews to make your decisions. We also checked for Plushbeds latex topper review and very few people complained about the price, quality or any other thing. Lastly, the Plushbeds cool bliss review that exists makes it clear that their customers were fully satisfied by the product in regard to price and quality.
One thing we noted is that there is a significant number of people that are complaining about their return policies and the customer care. One of their customers says that his main problem started when he tried to return the product.
Why is Plushbeds the best mattress manufacturer and seller today?
There are several reasons that make Plushbeds the best mattress provider. As a matter of fact, their mattress is rated among the best we have in the market today. Here are some of the reasons why you should choose Pluishbeds for all your sleeping needs.
Mattresses made from high quality and non-toxic materials. The materials used are certified with GreenGuard Gold status. This means that the material is safe for your health and very comfortable for your nights.
Comfort- Most of the people wants a comfortable place to sleep and that is exactly what Plushbeds mattresses offer. The company believes that every person deserves some comfort in their beds.
Prices-You may be convinced that most of their products are expensive but that is not the case especially if you when quality and value crosses your mind. Their products are retailing at a very fair price and hence you shouldn't be worried about anything.
Does the company offer coupon codes?
Just like any other online retail shop, Plushbeds offers coupon codes, discount codes and several other Promo codes to make sure you can save some money on your order. There are several ways you can get your coupon codes but getting a reliable coupon site such as Coupon Code Group is the best decision you can make. The site offers some highly functional coupon codes and other promo codes that you can use at checkout. You can as well subscribe to their official newsletter and receive updates regarding coupons and other promo details.
Final Verdict
After reading all the information provided above, you should agree with us that Plushbeds.com is a reliable provider that you should be thinking of right now. Although there are some negative reviews, the company has a number of positive reviews that you can as well relate to. They also offer a very responsive customer support that makes it easy for you to raise any issues you get along the way.