Recently, technology has got something new to offer. Now, information can be remotely managed, maintained and backed up in a process known as cloud storage. Cloud storage allows you and your business store crucial information online. What this means for you is that you can access this information whenever you are at any time. There are numerous advantages of cloud storage and that's the reason why it should be your business's next big investment.
What is Sync?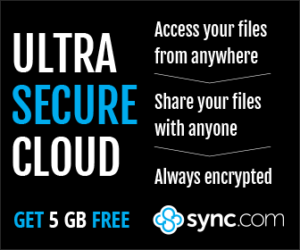 Cloud storage is a neat solution for your business. If you fully understand all the benefits of cloud storage for upcoming and big multinational companies, then you must have heard about Sync. Sync was started by Thomas Savundra, Suhan and Darius in 2011. However, for all this time until early 2013, sync wasn't known and nobody knew that it can offer such amazing services for companies.  In 2013, Sync became a reality with the launch of its cloud storage and application-driven platform.
Today, Sycn is largely popular with over 400,000 users from all parts of the world. The other thing is that sync shares over 2 million of over 1.5 billion files stored online daily. In this short brief, we are going to cover many aspects of Sync and eventually determine if it is worth it.
Features
Sync has several features that makes it easier for you to backup, sync and share your business files. It works well for both individuals and businesses. Here are top features of Sync that you should start using today.
Restore deleted files
I bet you have at one point or the other mistakenly deleted a very important file. In the last years, it wasn't possible to recover deleted files. However, sync has come to prove that it is possible and actually simple to do so. If there are some files that you have mistakenly deleted or mysteriously disappeared, then you can restore them by simple going to sync official website and clicking trashcan icon. A list of all the files you have deleted will pop up. You select the file you want to recover and right click to restore them.
Supercharge your links with expiry date, notifications, passwords and many more
This s another very useful feature of sycn that you should be using today. The good thing is that you can add passwords, download limits, expiry dates and at the same time get notifications on your links. You are only required to right click on the link you have created and select manage link from the menu. You will be offered with a couple of options to customize.
Free storage space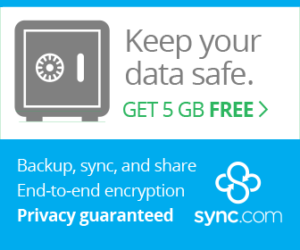 If you are a business or a company growing each day, I know you maybe wishing that you have more space as your business grow. With sync, this is a promise. Sync also offers more free storages as you refer friends. As and more friends get to sync, you will get offered free storage each time. Go to sync and look for account settings. After that, copy your referral link and spread the word.
Archive files using sync Vault
I bet you didn't know that sync offers a super safe cloud only storage which is known as Vault. Files which are synced in the vault stay in the vault unlike those that are sync folders where files get synced in all your computers.
Why Sync is the best in the market today?
There are several benefits that you are likely to get from sync. The main feature that almost every user likes is the ability to offer zero-knowledge encryption for their cloud services. What this means is that only the person who knows the password can be able to access the data. There are many more services which distinguishes sync from her competitors. When talking about sync, then privacy is the first priority.
Products
Sync offers almost everything that users couldn't get from other cloud storages. It has uncountable features that are beneficial to you and your business. Once you sign up to sync, you will get the below offers.
100% private cloud-Here, you don't have to worry about security because it is guaranteed with end-to-end file encryption.
Access files from anywhere in the world-This is the top most reason why most of the businesses are turning to cloud.
Automatic Backup and Sync-You can schedule your automatic sync and backup to ensure All the actions are taken without bothering you. You can back up all the information automatically.
Team collaboration-If your team members wants to maintain the power of a team while working remotely, then sync,.com will offer the best services in regard to this. Everyone can access these files remotely and take actions from whenever they are.
Easy file sharing-Another important offer that you are likely to get from sync is easy file sharing. You can share data and files from whenever you are to anyone you want.
Sync.com Reviews
Interface
Sync uses icon overlays to tell you want actions to take. It tells you if a file or folder is pending transfer. The only bad thing is that this doesn't work on the PC. On the computer, the task bar component gives valuable information. Then web interface on the other hand gives you an opportunity to check which files are secure and access them remotely without an app and eventually share the files with other workers.
Security
Sync is one of the wavelengths when you think about the security of your data. The good thing is that all the data from or to the sync cloud storage is AES-256 bit encrypted. The files are also directed through secure TLS tunnels. The keys used in the encryption are produced using 2048-bit RSA encryption and use zero knowledge security.
Pricing and Payments
When you sign up on sync, you are given 5 GB free storage immediately. The other good thing about this space is that it is not limited by the time limits. If you want to get to the premium deals which have advanced sharing feature, then you will have to dig more into your pockets. If you want 500GB of data, then you will be required to pay $49 per year. For 2 TB of data per year, you will pay $98.
However, you have to note that there are no monthly charges. This can be problematic but since you are given 5 GB on signing up, then this is a good space to test the services.
Final Verdict
Even if you aren't given a chance for monthly billing, sync is very economical cloud storage for all your individual and business needs. Another issue that I noticed here is that every time you want to preview or access a file on the server, it may take up to 3 minutes to open. The reason for this is because the files need to first of all be decrypted.
Another issue is that the company promises zero knowledge policy. However, there's no way to prove that the users private encryption keys are not accessible to it. Besides the above disadvantages there are a couple of benefits that outweigh the disadvantages and hence I am convinced that Sync is the best cloud storage in the, market today. Sync promises a lot and it has fulfilled a lot for her client's and for this reason, I can proudly say that it is worth the investment.
Up to 75% Off SYNC.COM Coupon code will help you to save on your order. You will also get  other offers like 30% OFF sitewide or 35% off on specific items.