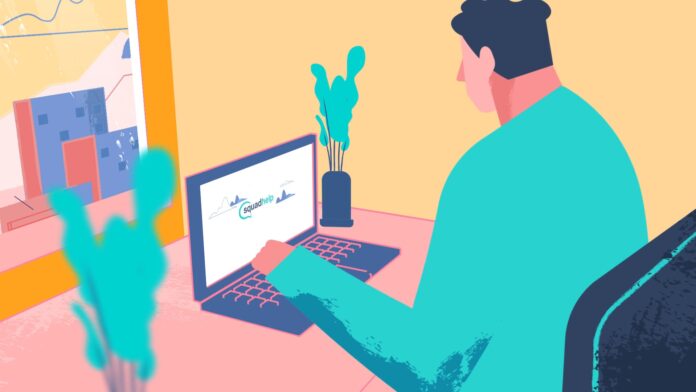 It is a crowdsourcing platform and Business name generators that help companies name their businesses and also create new logos. It is an international company open to join for all people around the world. The company is based in Chicago and has set a platform where business owners take their time to find a perfect name for their companies.
Many companies look up to Squadhelp for various accomplishments, which include audience testing, machine learning, creating business names and creating logo designs. On this crowdsourcing platform, the business owner posts a contest on the site. All members on the platform have an opportunity to participate in the contest. The business owner then chooses the winner, and once the contest is closed, the winner is paid by the business owner.
How does Squadhelp work?
Have you been looking for ways to generate a catchy business name instantly? With Squadhelp it's easy. A new business owner submits a proposal to Squadhelp containing details of their business plan requesting outsourced branding ideas. This is a paid service, and it costs the business a couple of hundred dollars.
Upon processing the request, the Squadhelp network is urged to submit their idea for a name. The purpose of the network, or "creative" as they are often referred, is to come up with the best possible branding of a name.
The contests usually attract several hundred entries, and they run for about a week. After the time lapses, one name is chosen by the startup company running the contest from the pool of names submitted. The startup company then rewards the winner.
How to join Squadhelp
You can participate either as a freelancer and offer your suggested names or post a request as a business owner to get a business name for your company.
Freelancers
These are the people who come up with the names for the business.
Being an International company, there is no restriction on joining. Anyone can join.
A registration form must be filled and submitted to the company.
Being a new member, contest availability will be limited at first. You will only be assigned to 2 contests that you can participate in.
To get full access to the site and be able to participate in all the contests on the site, your ideas will need to earn likes.
Once a candidate gains full access to the site, it's easy to participate in all the contests on the site by deciding which contests to enter and submitting your ideas as well as your logo designs.
Upon submission, the startup company contest holders will rate your ideas and provide you feedback.
How to join as a Business owner
You have to sign up and create an account.
There are 3 platforms one can choose from, namely the Naming contest, Premium domain Marketplace and The Agency level managed contest.
If a company owner is looking for a new name for his business he has to deposit the funds with the company and create a contest.
To create a contest, one needs to fill out the information on the site and answer some questions regarding the business so that the potential freelancers on the site will use to create a rough idea of the company name suggestions.
At this stage, the contest can be launched.
The community starts to provide suggestions to the content creator. It is upon the content creator to review the suggestions and provide feedback in three days.
On the fourth day of the contest the creator narrows down to 5- 10 names.
The company is then tasked to test the names on the list for the business owner and get a suggestion of peoples' preferred name. It is a process that takes another 4 days.
The best three names chosen at this stage are sent to a Trademark attorney for a comprehensive Trademark screening.
The creator has at least 30 days to come up with a winner based on the final results from the Audience testing and Trademark validation.
After the announcement of the winner, the winner is rewarded.
Does Squadhelp work?
This is a perfect platform that allows a variety of ideas from various people. It acts as a branding competition, and one has a chance to engage with the most creative people across the globe. The results are of high quality and fast. The winner gets paid, and in turn, you receive a strong brand name that proves a success. It is also quick and simple and cost-effective.
Can someone make money on Squadhelp?
Once you have signed up, Squadhelp grants you only a few contests for starters. For instance, in the case of a brand name for an insurance company, you have to read the company's statement. This should detail what their brand is about, their ideal customers and who they wish to target. It should also give an idea of which name they would like to have. Armed with such basic information, then it is easy to come up with suggestions. Actually, the good thing about Squadhelp is that it automatically checks your name idea for URL compatibility to ensure any other website does not take your name. After you have entered more of their initial contests, they gradually grant you access to a range of contests which will pay upwards of $200 or $300.It is also required for you to sign a non-disclosure agreement so that you may not let out information about the business that is about to be launched.
Contact Details
Beverly Road 3333
60179
Hoffman Estates
United States
Testimonies and reviews
I must admit that with all the reviews and feedback I have come across in Squadhelp, I would not hesitate to give it a try and recommend it to people that want some creative Business names. Take your time to at least get an idea of your desired outcome. You may not have a conclusive outcome, and this is where you need to engage Squadhelp. There shall be no regret of a managed contest, and it would be a great idea to pull through. You will be surprised by the outcome for just a few bucks.
Find best coupons for SH: https://www.couponcodegroup.com/store/squadhelp/