More and more institutions are requiring their employees to have advanced and additional certifications which is the main reason why more and more employees are going for online ACLS certification and recertification courses. As more and more providers are finding their way into the market, people need to have some information to help them make informed decisions.
The best news is that more and more hospitals and institutions are allowing their customers get certifications or recertification from online providers rather than getting to a classroom.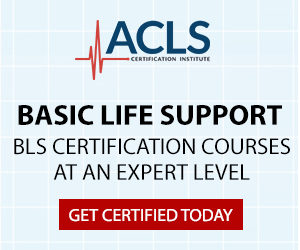 What this means is that obtaining ACLS renewal or certifications is now easier and very fast. One of the best providers in the market today is ACLS. However, before jumping right into it, you have to hold on for the information I am going to provide on this brief.
This company was started in the year 2010 and has over the time been offering quality emergency life support certification training. The company has over the years helped a couple of health care professionals earn and maintain their certifications through their programs. If you are looking to join this recently or even do something about it, we are here to provide quality o9information that will help you along the way.
As a matter of fact, I have to admit that online ACLs certification and recertification course are a very easy and fast option. However, you should note that not all the courses that are the same. What this means is that you need enough information to settle for a certain service provider.
ACLS Certification Reviews
Most of the people are saying that there are several issues they have encountered throughout the course. Although there are some positive reviews about this provider, most of their prior customers feels as if the company is missing a lot in terms of proper organization and the cost. Although they feel as if the content was satisfactory, they agree that it's poorly organized.
Some other customers feel as if some of their answers were marked wrongly. What this means is that some of the customers are certain that this provider cannot really provide quality services.
On the other hand, there are several others that had a good experience with the provider. They feel as if their answers were marked the right way and the customer service was always ready to answer their queries.
Most of their prior students say that everything was laid out well and they didn't have any problems with the courses. Others say that they had a bit of comprehension problem especially those that are getting older.
Pros
Very informative and simple
Convenient and thorough
A very easy way to get your BLS
Cons
Redundant at times
Its not AHA
Cost of CPR certification
With the courses that are offered and the variations, you can expect that the cost will be high. However, it's very affordable and actually a very pocket friendly way of getting certification. The price largely depends on the amount of training required to complete the class.
If you want to go for a more advanced class, you should actually be ready to pay more. The main reason being there are more involved and at the same time require more equipment and also takes more time. However, the cost may land somewhere between $75-$225.
Are there any offers?
Yes, a couple of them. You are likely to find information about promo codes, coupon codes and several other discount information if you are really active in the site. This doesn't mean you have to spend the entire day looking at the site, you can subscribe on their newsletter and you will end up getting information about promo codes, coupon codes and discounts on your emails. The other alternative is to visit a good Coupon site for up to date and reliable ACLS coupon codes. You can visit CouponCodegroup for more information about the same. Their coupons are very reliable and at the same time checked for confirmation.
Does they offer AHA provider card?
No, actually this is the main reason why most of the people have a negative feel about the company. Though, you should know that the American Heart Association is the only provider of AHA ACLS certification cards and hence you should expect to get them from here. The association has not accredited or even endorsed any other body to take any action relating the same. As a matter of fact AHA requires an in-person skills assessment and hence they need to be sure that a course is completed to their specifications.
What if your employer doesn't accept your card?
There are several instances where employers don't accept the cards. However, in this case, ACLS.COM will offer 100% money back guarantee. I would as well recommend asking your employer in advance about the card before signing up for this course. If they accepts, then you can proceed, if they don't, then you will figure out what to do.
Does the provider have any time restrictions?
I know you are wondering if the exams and the courses are timed. Although some websites will time, ACLS doesn't have any time restrictions.
Final verdict
Whether it's a requirement from your employer or if it's a personal choice to arm yourself with the ability to help your loved ones, there's always room for more advanced options. The fact is that you may end up coming across one or more people in your lifetime in need of CPR at some point in your life time and hence its always paramount to get the certification. Although ACLS offers these services, we have seen a couple of their previous customers complaining about the services offered. This is very shouting and hence you should be ready to get the real deal before you progress.
Its up to you to consult about what would happen if they marked your answers wrongly or if they made any uniformed decision on the way. This doesn't mean ACLS is not a good provider, every company has its own pros and cons. ACLS has its own downfalls and uprising that you should check before you proceed.